09 November 2021
Nataliya Petkova, Children and Young Person's Counsellor
'Nataliya Petkova joined the Marie Curie Glasgow Hospice as our new CYP Counsellor in February 2021. During the transition period between Nataliya and her predecessor, Marie Curie's adult bereavement counsellor provided support to parents and guardians, signposting them to organisations who offer telephone and on-line support to children and young people. (As they are a separate clinical discipline, the adult counsellor was unable to talk to the children directly.)
Since Nataliya has come into post, the number of referrals has increased, and she has also been providing education and advice to staff working with families, in addition to speaking to clients directly. Referrals come from the Hospice and can be relatives of patients in our In-Patient Unit or relatives of patients seen by our Community Nursing Service. We also have referrals from Health Visitors and self-referrals from parents. We are also open to referrals from GPs and schools.
Nataliya graduated in Psychology in Bulgaria before coming to live in Scotland. Since moving to Scotland, Nataliya has completed her Postgraduate Diplomas in Person Centred Counselling for Adults, Children and Young People from Strathclyde University. She then counselled children and young people in Ayr Hospice before coming to Marie Curie.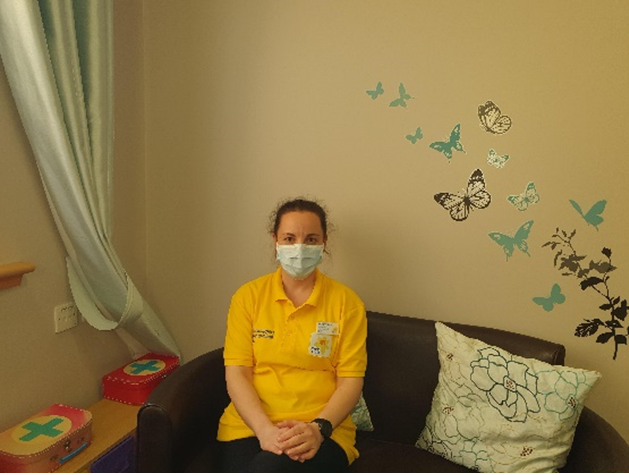 Nataliya explains "I have a real passion for working with children. With the challenges and difficulties of bereavement, I'm very aware of the potential for adverse effects on children's mental health as they get older. Supporting children at a younger age and helping them to grow in confidence and resilience can lessen the likelihood of anxiety and depression in later years."
As well as supporting children, Nataliya feels it is also very important to support parents and provide them with information and support around children and young people's responses to bereavement.
"This benefits families as a whole. One of the things which parents and guardians find most helpful and reassuring is to have a vital link to the expert support and advice that the service provides."
Marie Curie is a not for profit charity and heavily relies on donations to keep going. If you would like to donate (any amount helps), please visit our NW/A Just Giving Page . Thank you